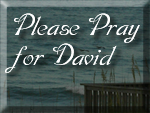 Today is a new day in our journey. David will endure further testing (colonoscopy and endoscopy). The doctors and staff at Baptist Hospital in Pensacola Florida are being thorough before they give a detailed diagnosis and prognosis.
However, our family knows God is the only one with "all" the answers. He knows the number of days we will be on this earth as well as how many hairs are on our head. He loves each of us and He will indeed see us through this difficult time.
"But the very hairs of your head are all numbered. Therefore, do not fear; you are of more value than many sparrows." Matthew 10:31-31
As we continue to walk this journey knowing we are in the palm of GOD's hand we covet your prayers and we thank you from the bottom of our hearts.
Forever in HIS grip,
Andrea
*Please pick up David's prayer button on the side bar and place it on your blog.