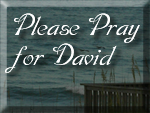 Please Continue to pray for my brother in law, David. As of last night, the doctors were continuing to give him blood. Today, they will continue further testing to find out the source of his problem. He was seen last night by the Hematologist.
David has faced many difficulties through out his life. Please pray that GOD will work in HIS heart, body, and soul in a mighty way.
Our family thanks you for storming the heavens on David's behalf.
Storming the heavens,
Andrea
*Please pick up the prayer button made by Edie at
Rich gifts
and place it on your blog. THANK YOU, Edie! David loves the ocean. I am especially thankful for Edie's special creation.